TISCA is the parent brand for MorrCon – the home of Nijhuis Safety Systems and Torrent Mulchers in Australia.
THIS IS WHAT
WE

DO

MorrCon Construction Equipment is the construction branch of an established and successful agricultural equipment company TISCA. Located on the Sunshine Coast in Queensland, we have a reputation for importing, engineering and distributing quality machinery across Australia.
WE PROVIDE
PRACTICAL

SOLUTIONS

Our team is renowned for creating solutions with quality machinery. Combining mechanical, engineering and business knowledge we can provide and modify machinery and implements to improve the quality, efficiency and safety of your business.
WE WORK
DIRECTLY

WITH THE MANUFACTURER

With direct links to the manufacturers and daily communication channels established we can source products and communicate modifications in a very short timeframe.
WE ENSURE
SAFETY

AND EFFICIENCY

MorrCon Construction Equipment is known for providing the Australian market with leading international manufacturers ensuring safety and efficiency for all construction equipment and operators.
GUARANTEEING
SUPERIOR

PERFORMANCE
Nijhuis Engineering is a manufacturer of electronic safety devices, limiting devices, weighing technology and control systems, including: Crane safety devices (LMB), work area limiters, on-board weighing systems, aerial work adjustments and remote control for all kinds of machines. 
Our construction department also manufactures lifting masts, lifting platforms, railway frames and other construction work under the brand name TM (TeleMast Dronten).
Nijhuis Engineering range includes:
Heighlics
Height Limiter System
Arealics
Excavator Height and Slew Limiting System
Helics
Excavator Safety System
Railics
Safe Load System for Crane on Rail Operations
ESVB
Hose Breakage Monitoring Electronic Safety Valve
Access Platforms
Access Platform for Excavators, Telehandlers and Wheel Loaders
Thelics
Telehandler Safe Load System
Whelics
Safe Load System for Crane on Wheel Loader Operations
Agri-Load
Weighing System for Agricultural Trailers
Belt-Way
Weighing Systems for Conveyor Belts
Torrent Mulchers manufacture powerful mulchers and brush clearing equipment that is light enough for your machinery, but strong enough to handle even the toughest jobs. Manufactured in Canada to "Clear Land Fast"
Torrent Mulcher forestry mulchers chips and mulches the wood with minimal horsepower required. The fixed cutting design mulcher head will suit either wheel or skid mounted machines. Requiring less horsepower for drive these light weight, heavy duty, robust forestry mulcher cuts through timber with ease.
The cutters can be turned four times meaning the owner has multiple use out of a blade set without the need to replace the cutters.
Torrent Mulcher range includes: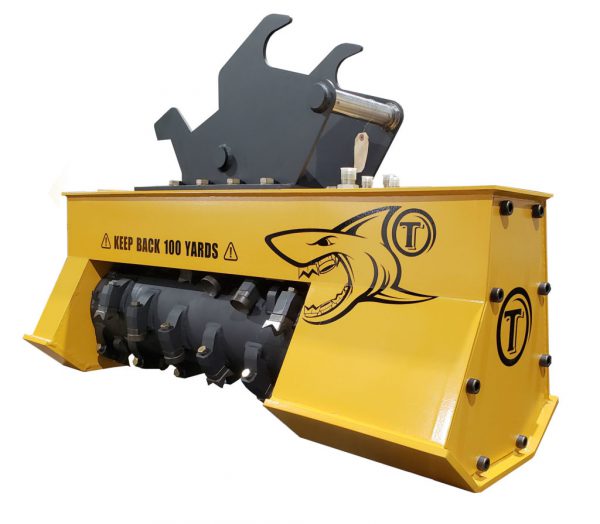 Torrent Mulchers 30″ Shark
Torrent Mulchers 30″ Shark – Boom mounted lightest commercial grade mulcher to handle anything up to 10 inches in diameter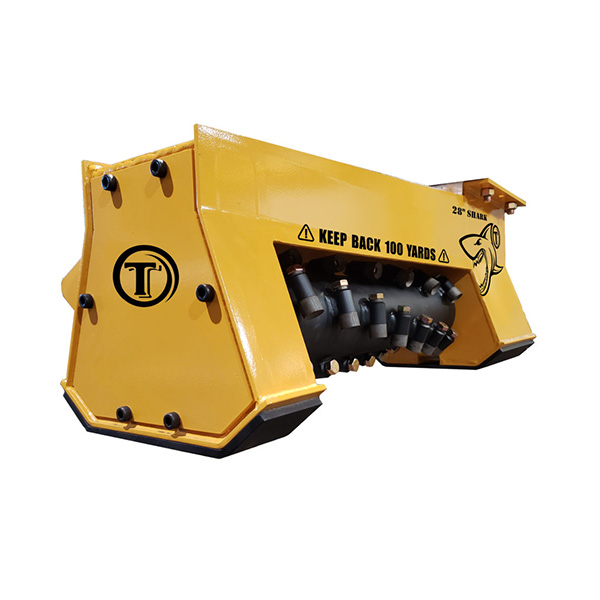 Torrent Mulchers 28" Shark
Torrent Mulchers 28″ Shark – Lightweight mulcher for light brush, heavy weeds and whole trees up to 5 inches in diameter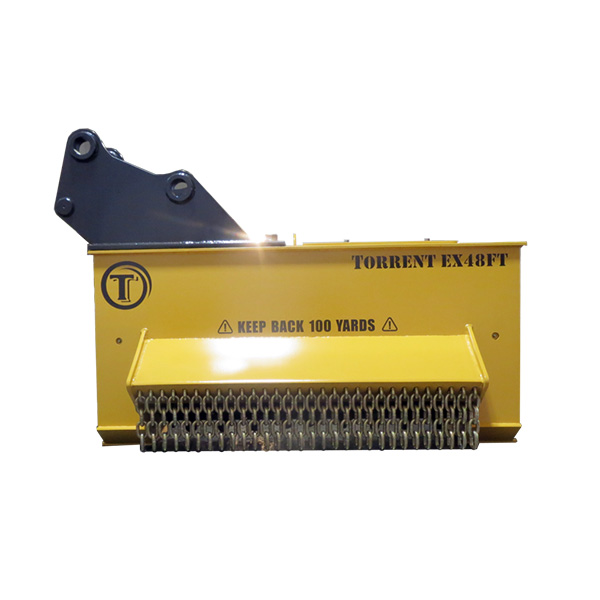 Torrent Mulchers 48″ Shark
Torrent Mulchers 48″ Shark – With a 48inch cutting width, larger drive motor and a heavier frame can withstand heavier downward pressure from larger excavators.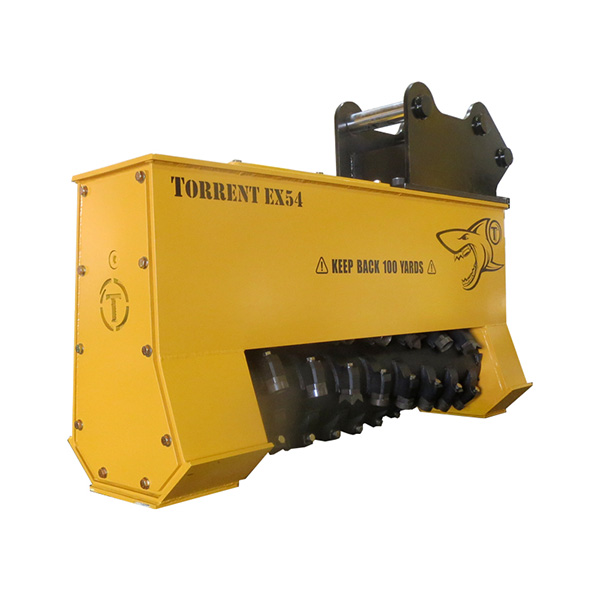 Torrent Mulchers 54″ Shark
Torrent Mulchers 54″ Shark – Simply the toughest mulcher on the market. Proven in the most severe of applications.
Find a MorrCon solution for your operation